Types of Market Structure
Perfect Competition

many firms each sell an identical product

Monopoly

a single firm sells a single, undifferentiated product

Oligopoly

a few firms (usually 2-4) selling either identical or an undifferentiated product (ie. steel or cigarettes)

Monopolistic Competition

many firms each sell differentiated products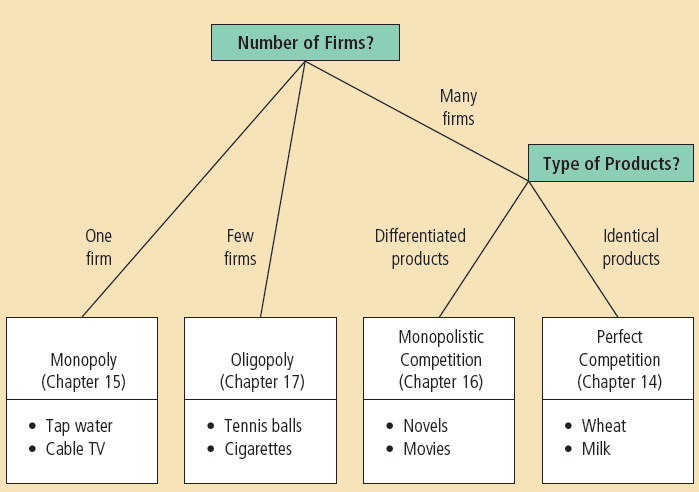 Short-run industry supply curve
Definition

relationship between the price of a good and the total output of the industry as a whole

When the market price equals or exceed the shut-down price, firms will continue to produce at the point which the price equals marginal cost

At any price above the AVC, the short-run individual supply curve is the firm's marginal cost (MC) curve
The short-run industry supply curve, S, is the industry curve.

Below the shut-down price of $10, no producer wants to produce in the short run.

Above $10, the short-run industry supply curve slopes upward, as each producer increases output as price increases.

It interescts the demand curve, D, at point EMKT, the point of short-run market equilibrium, correspongding to a market price of $18 and a quantity of 5000 trees.

Long-run industry supply curve
Meaning

shows how the quantity supplied responds to the price once producers enter or exit the industry

Profits cause more firms to enter, which shifts the supply curve to the right, resulting in lower prices and higher industry output.

However, individual output by firms decreases as does profit until there is no economic profit.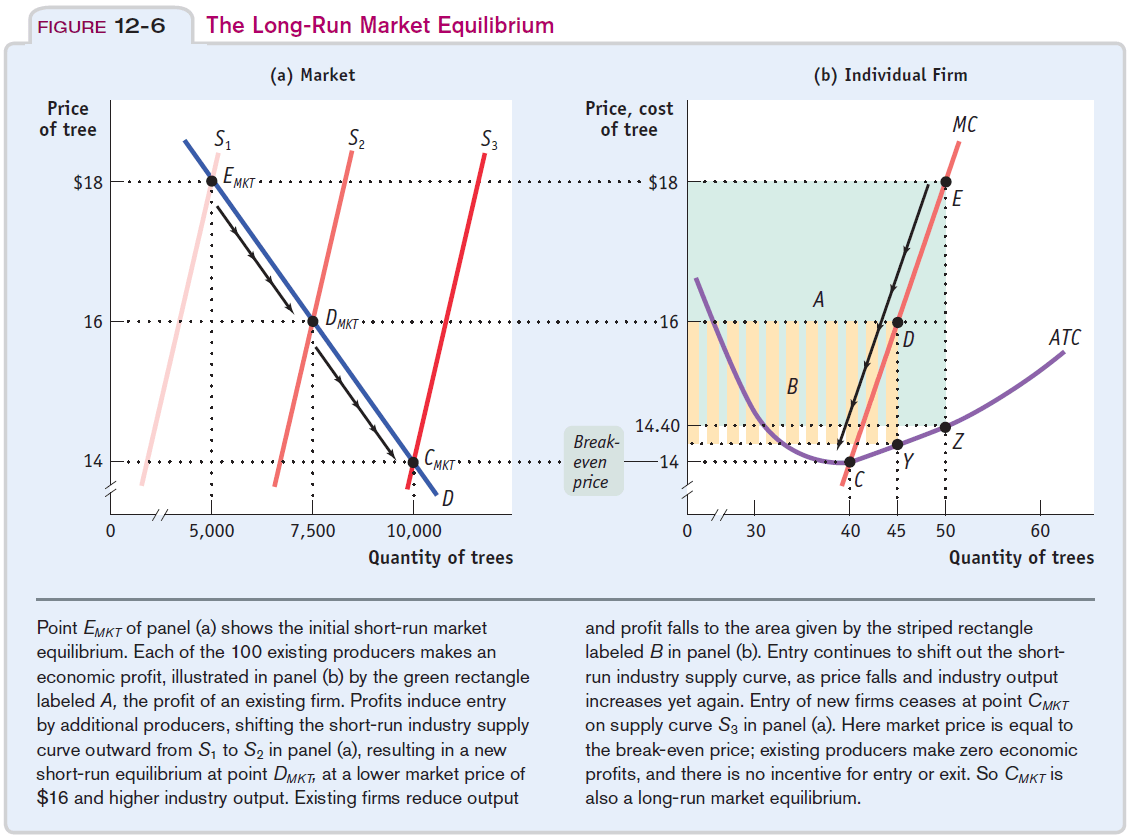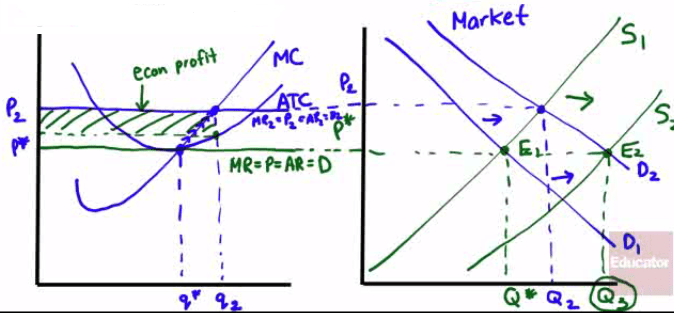 Profit = Total Revenue - Total Cost = Price * Quantity - Average Total Cost * Quantity
The Effect of an Increase in Demand
An increase in the demand for a product causes the equilibrium price and quantity to increase in the market.

An increase in demand raises price and profit, which causes more suppliers to enter the market

Higher industry output from new entrants drives price and profit back down to its original equilibrium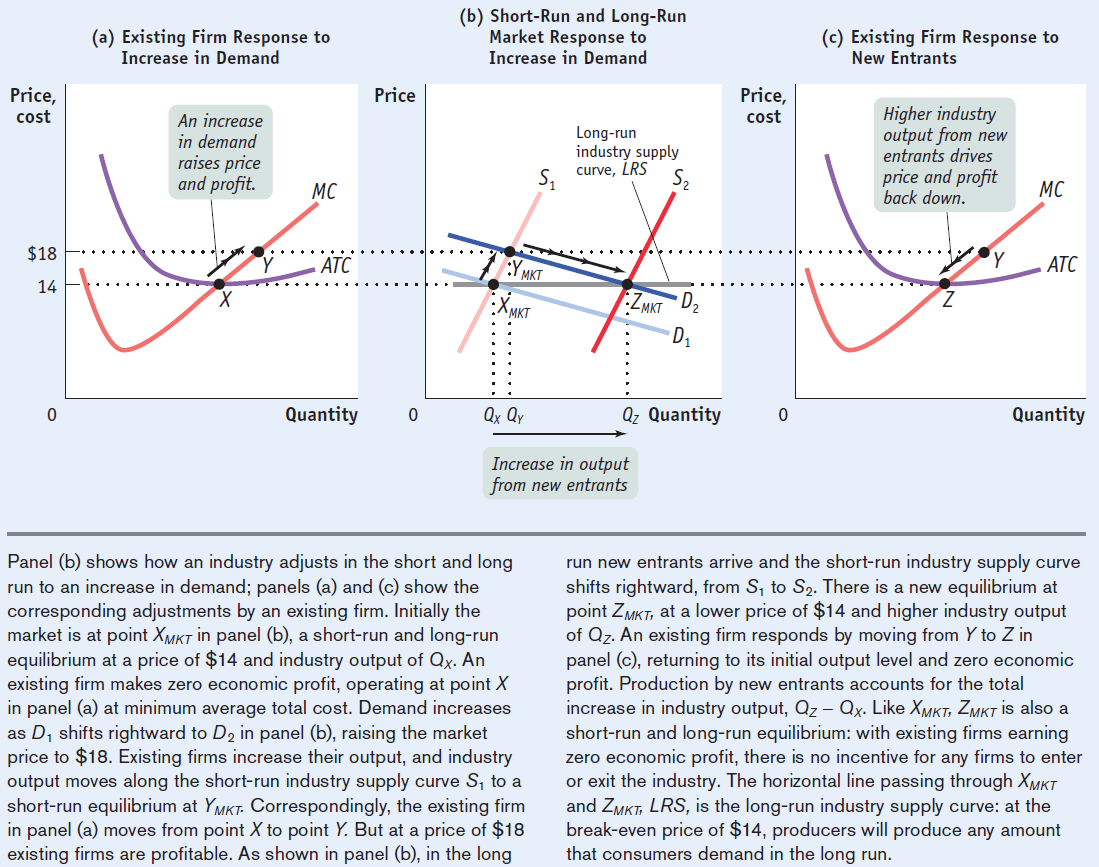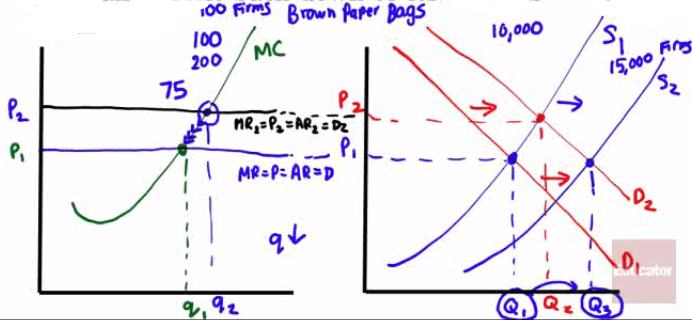 Perfect Competition
Price-taking firm

the actions of the firm has no impact on the market price of the product

Price-taking consumer

what consumers do have no bearing on the price of the product that is purchased

Perfectly competitive market

all participants are referred to as price takers, taking whatever the markets gives them

Three characteristics of perfect competition

Many firms. No individual firm can have a disproportionately large market share

Item sold is a commodity, or a product that is the same no matter who sells or buys it

Free entry and exit. If there's profit, firms enter. If there's loss, firms exit.

Optimal output rule

producing the quantity of output at which the market price is equal to the marginal cost of the last unit produced

Equation

Marginal Cost = Marginal Revenue = Price = Average Revenue = Demand

How to remember: Mc= Mr. Pard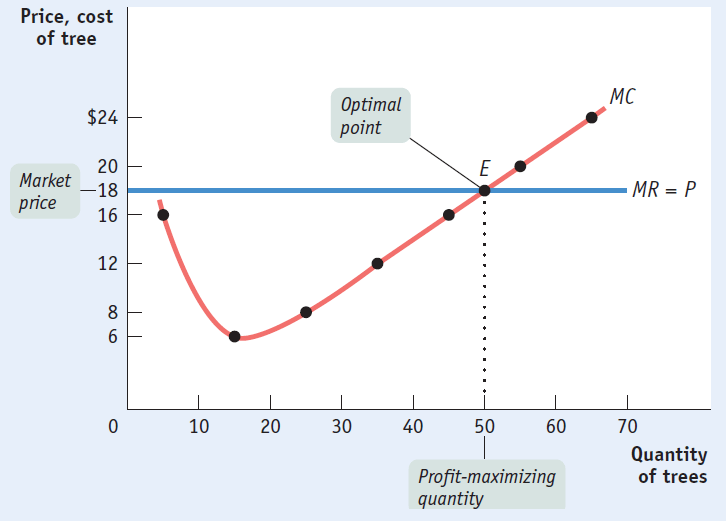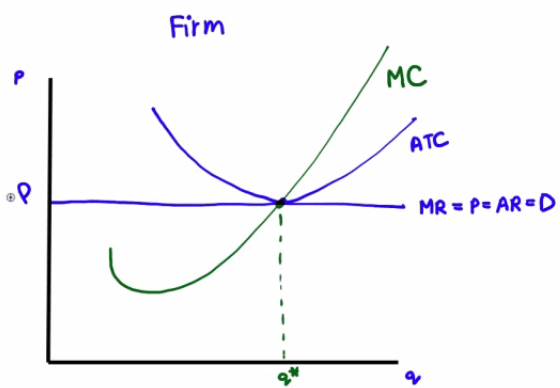 small q for quantity of a firm
Perfect Competition in Long-Run Equilibrium
Long-run competitive equilibrium

All firms in an industry are maximizing profit, no firm has an incentive to enter or exit, and price is such that quantity supplied equals quantity demanded

Conditions

There is no economic profit

No firms enter or leave

The market is always right

Label all points correctly!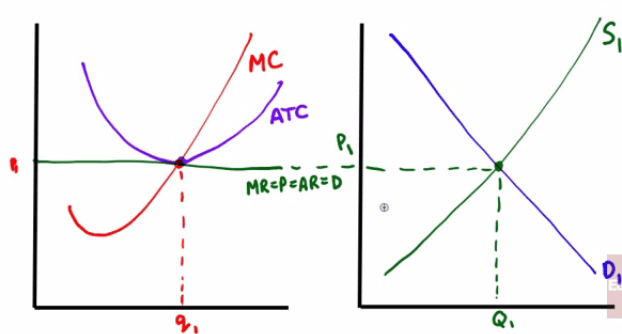 Perfect Competition and Short-Run Market Price
Making Short-Run Profit

MR = P = AR = D is above the ATC curve

Make sure the ATC and MC intersect at the minimum ATC

The market is always right!

Economic Profit shaded in green

Incurring Short-Run Loss

MR = P = AR = D is below the ATC curve

Make sure the ATC and MC intersect at the minimum ATC

The market is always right!

Economic Loss shaded in red

Summary
Summary of Profitability and Production